ORPHAN FAIRYTALE
JUZAGA
MARIE GAVOIS
TONTO
FELIX-FLORIAN TÖDTLOFF
Wandmalerei: CHRISTIAN GODE

Einlass: 19.00 Uhr
Start: 19.30 Uhr
Eintritt frei.

Es gilt die aktuelle 3G-Coronaschutzverordnung.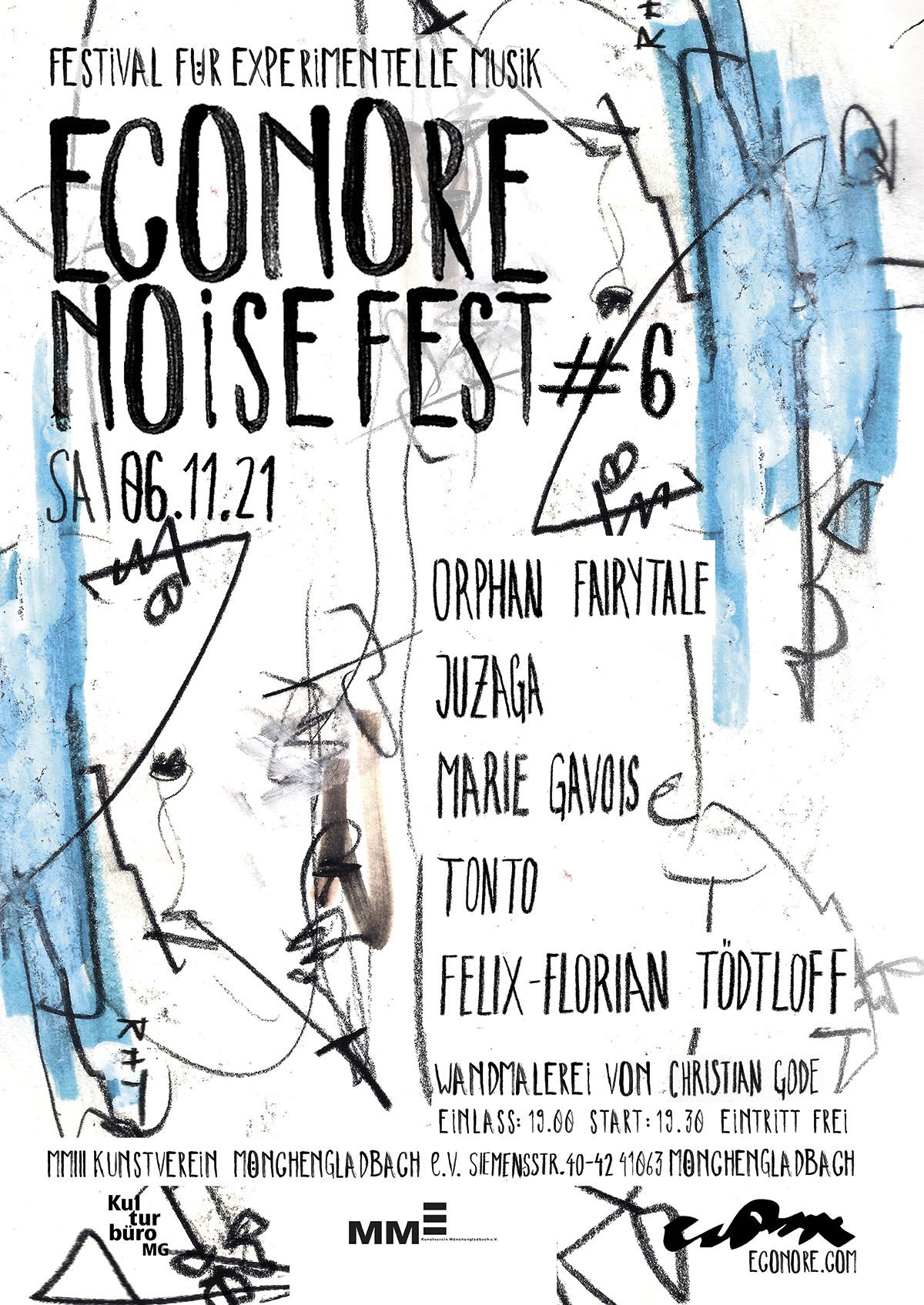 Foto: Econore Noisefest
ORPHAN FAIRYTALE
Eva Van Deuren has been wayfaring as Orphan Fairytale for the past 15 years and counting. With her electronic psychedelia that deftly teeters between the bubbly and the eerie, Van Deuren is a prolific presence in our spheres and her music is a constant which irrefutably touches and enchants all those who encounter it. Over the past few years she has integrated the Celtic harp into her repertoire, crafting new sounds that seamlessly meld into the narrative of her unique sonic trajectory.
https://ultraeczema.bandcamp.com/album/titania-moon
https://kraak.bandcamp.com/album/tune-in-tree-ears
JUZAGA
Juzaga is Arvind Ganga on guitar and Philipp Ernsting on drums. Shards of noise, drones, rock, kraut, raga, and jazz are mixed up on the spot into a pulsating universe with strong sense of flow yet without clearly recognizable rhythm or steady beat, stacking layers where timbre and sound trump melody and harmony.
Arvind Ganga combines an explorative mind with an obsession for raw sound. He creates an intense sonic experience that is simultaneously abstract, psychedelic, noisey and spiritual. Physical manual creation is crucial to his approach, where he wrenches the sounds out of his guitar using his bare hands, improper techniques, a bunch of objects and a simple reverse effect and combines them back together using free improvisation.
Philipp Ernsting: Innovative percussionist active in the Rotterdam improv scene and a busy session musician. Philipp plays in a number of bands, projects and records for film. He tours intensively with his many projects, including Albatre, Acid Folk five, Doctor Schnitt and Anticlan, is involved in the modern dance scene for years, and released multiple records on labels such as Cleanfeed and Creative Source.
https://www.arvindganga.net
MARIE GAVOIS
Marie Gavois' artistic practice spans various media and fields where performance, sound (often noise) and film are prominent.
2020 – 2021 her solo work is a research on the aesthetics of noise-dance and personal riot.
She's a member and co-founder of the performative sound art and noise duo Sisterloops, a collaboration with composer Alexandra Nilsson since 2013.
She has an ongoing collaboration with the filmmaker and  artist Michel Klöfkorn, since 2014.
2019 she initiated Halffloor, a collaboration with the artists Susanne Skog and George Kentros, a podcast for sonic artworks.
2015-2018 Gavois was the chair woman of Fylkingen – new music and intermedia art in Stockholm. Fylkingen still serves both as a base to develop her own work as well as her role as an organizer.
2008-2012 she was an apprentice in SU-EN Butoh Company participating as a dancer and performer in many projects and exhibitions. During the four years she was as well part of the team of Frictions – international performance art festival. 2012, she interrupted the apprenticeship, to continue working independently as an artist and performer. Earlier she studied sculpture at Gothenburg school of art.
https://mariegavois.wordpress.com/2021/04/01/om/
TONTO
Francesco Zedde is a multi-instrumentalist, sound designer, composer, and improviser based in Utrecht. Graduated in electronic music, scoring for films (Pesaro, 2017), sound design (Bologna, 2018) and sound engineering (Bologna, 2019), he has been the member of 13 different projects/bands between 2012 and 2020, has released 6 solo albums, and has taken part to more than 25 records and 475 concerts in 17 countries. Most of his music is released under the monikers "Tacet Tacet Tacet" (live electronics audio/visual project inspired by modern experimental and dark ambient music) and "Tonto", a post-punk one man band performed with a processed drumset and vocals. Aside from these activities, he is also the founder and organizer of Discomfort Dispatch, a series of free improvisation concerts/ festivals that started in Italy in 2017 and has since taken place in several countries. Francesco carries his own research activities on augmented instruments, hacking and new media arts while keeping on touring, producing and teaching.
https://frazedde.eu/tonto
FELIX-FLORIAN TÖDTLOFF
Der Berliner Experimentalmusiker Felix-Florian Tödtloff (ehemals »Sferics«) arrangiert elektrische Gitarre und Synthesizer zu Klangcollagen zwischen Minimal und Melancholie.
Er spielt in den Duo-Projekten »Magazine Magazine« & »The Old Dream of Symmetry« und ist Gründer der Improvisations-Rockband »Swoosh«.
https://felixfloriantodtloff.com
CHRISTIAN GODE
The works of Christian Gode *1976 fundamentally deal with an altered view of spatial perception. Wallpaper, carpets, plasterboard walls, as well lines, outlines, architectural features and concrete forms of space, which are transferred back into it, provide access to play with the available space. Simultaneously, they provide an entry point into the space of imaginary. His minimalistic spatial deconstructions are creatively places, invariably with reference to the specific site.
https://www.christiangode.de
Weitere Informationen erhalten Sie bei Facebook
Mit freundlicher Unterstützung vom Kulturbüro Mönchengladbach.